Resources
International Coach Federation
The ICF are a nonprofit organization formed by individual members-professionals who practice coaching, including Executive Coaches, Leadership Coaches, Life Coaches, and many more, from around the world.

Web: http://www.coachfederation.org.uk/­
The Academy of Executive Coaching
Since its inception, the AoEC has been committed to maintaining the highest professional standards, becoming the only UK coach training company to be accredited by the three top professional bodies, the ICF, EMCC and the AC, as well as validated by Middlesex University.
Executive Coach or Career Counselor: Which is Right for You?
Organizational leaders today face daunting challenges: an uncertain economy, faster technology, globalization. Given all of these changes, leaders must develop new skills to succeed in their current and future roles. But how does one go about identifying and developing these required skills? Working with an executive coach or a career counselor may be one solution.

Web: http://www7.gsb.columbia.edu/­alumni/­careers/­news/­executive-coach-or-career-counselor-which-right-you
Vault Career Intelligence
As the Web's ultimate destination for insider career and job information, Vault.com is the heart of our company. Vault.com provides in-depth intelligence on what it's really like to work in an industry, company or profession - and how to position yourself to land that job.
Coaches help clients meet life goals (usatoday.com)
Life coaches are a modern mix of trusted adviser, strategist, friend and cheerleader. The coaching industry has exploded, with more than 47,500 professional coaches worldwide, according to the International Coach Federation.

Web: http://www.usatoday.com/­story/­news/­nation/­2013/­01/­12/­life-coaches-help-clients-meet-goals/­1566336/­?goback=.gde_87212_member_207921423
Management Is (Still) Not Leadership
...the confusion around these two terms is massive, and that misunderstanding gets in the way of any reasonable discussion about how to build a company, position it for success and win in the twenty-first century.

Web: http://blogs.hbr.org/­kotter/­2013/­01/­management-is-still-not-leadership.html?goback=.gde_87212_member_203897719
5 Ways You're Killing Your Chance At A Promotion
Getting promoted often involves time, effort, energy, and patience. But if you've been doing all of the aforementioned and have yet to receive the advancement you've been hoping for, it may be time to assess the situation.


Web: http://www.businessinsider.com/­5-ways-youre-killing-your-chance-at-a-promotion-2013-1
Make Friends, Not Contacts: 5 Tips for Networking
In Never Eat Alone, master networker and entrepreneur Keith Ferrazzi redefines the traditional notion of networking around the building of mutually beneficial relationships. Throughout the book, Ferrazi proves that those who are "best at it, don't network, they make friends."

Web: http://www.wamda.com/­2013/­03/­5-tips-for-building-real-connections
Career Success Means Work-Life Balance, Study Finds
A study by Accenture revealed that work-life balance — ahead of money, recognition and autonomy — is the key determiner for more than half of men and women on whether or not they have a successful career.

Web: http://www.huffingtonpost.com/­2013/­03/­05/­career-success-means-work-life-balance_n_2812707.html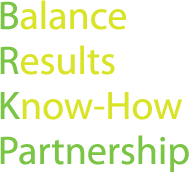 The key to our success is that our clients build their own path forward, so it is perfectly tailored to how YOU work best.
Contact us for more information.